CREATURES YOU FIND IN MOST OF THE COUNTRY (but don't meet in the video):
NISSEN (the fogey)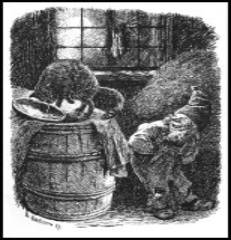 Nissen is a small man dressed in grey clothes and with a red stocking cap on his head. He's got only four fingers; the thumb is lacking.He usually stays in the barn or the stables where he is tending to the cattle, making sure that they are well treated. If the people on the farm mistreat their animals he will punish them severely. He can make himself invisible and beat them till they're blue all over, or he can make you stumble and spill your milk or fall into the manure heap. But if you are nice to the animals, he will help you in every way. And you must ALWAYS remember to put out a bowl of porridge in the barn for him on Christmas Eve!
NB!During the last 75 – 100 years our nisse has been assimilated with Santa Claus, so in Norway it's "nissen" who comes with the gifts at Christmas.
---
UTBURDEN (the out-carried child)
Utburden is a child that the mother has born secretly and isn't able to keep. She kills it and buries it somewhere or just leaves it in the woods to be killed by wild animals. This child will haunt its mother until she confesses her crime or let some remains of it be buried within the churchyard. Sometimes the child walks around crying, naked and miserable, and if anybody hears or see it they can try this formula:
Eg døyper deg på ei von,
anten Kari eller Jon
(I baptise you at random, either Kari or Jon)
Then the child will find peace.
---
BYTTINGEN (the changeling)
If people got a child with a handicap or a child that screamed a lot , they would believe that the underground people had taken their child and changed it with one of their own. To make them take the child back and give you your own child you could
- treat the changeling so badly that the underground mother came to get her baby
- try to baptise it
- smear soil from a grave on the child's forehead
etc.
"Bytting" is still used as a term of abuse to people you disgust!
---
STALLO (the sami wizard)
The Sami traditions up North differ a bit from other parts of Norwegian traditions. You will find troll and draug and some other creatures as well, but the Stallo is purely Sami. He can change into all kinds of beings,; animals, human beings, plants, insects, bird – anything. He can also "turn" the landscape so you miss your direction or change it so you don't recognise familiar surroundings. Stallo is very rich and smart, he owns silver and reindeers galore, but he always wants more. To get what he wants he tries to trick the Samis into traps, and the most popular Sami stories tell how people manage to fool Stallo.
NB! Don't mix Stallo with the noaide! He is a real wizard who people still believe in!
Norway April-2002